Panel talk on the "Violent" vs "Non-Violent" false dichotomy that often derails effective Criminal Justice Policy.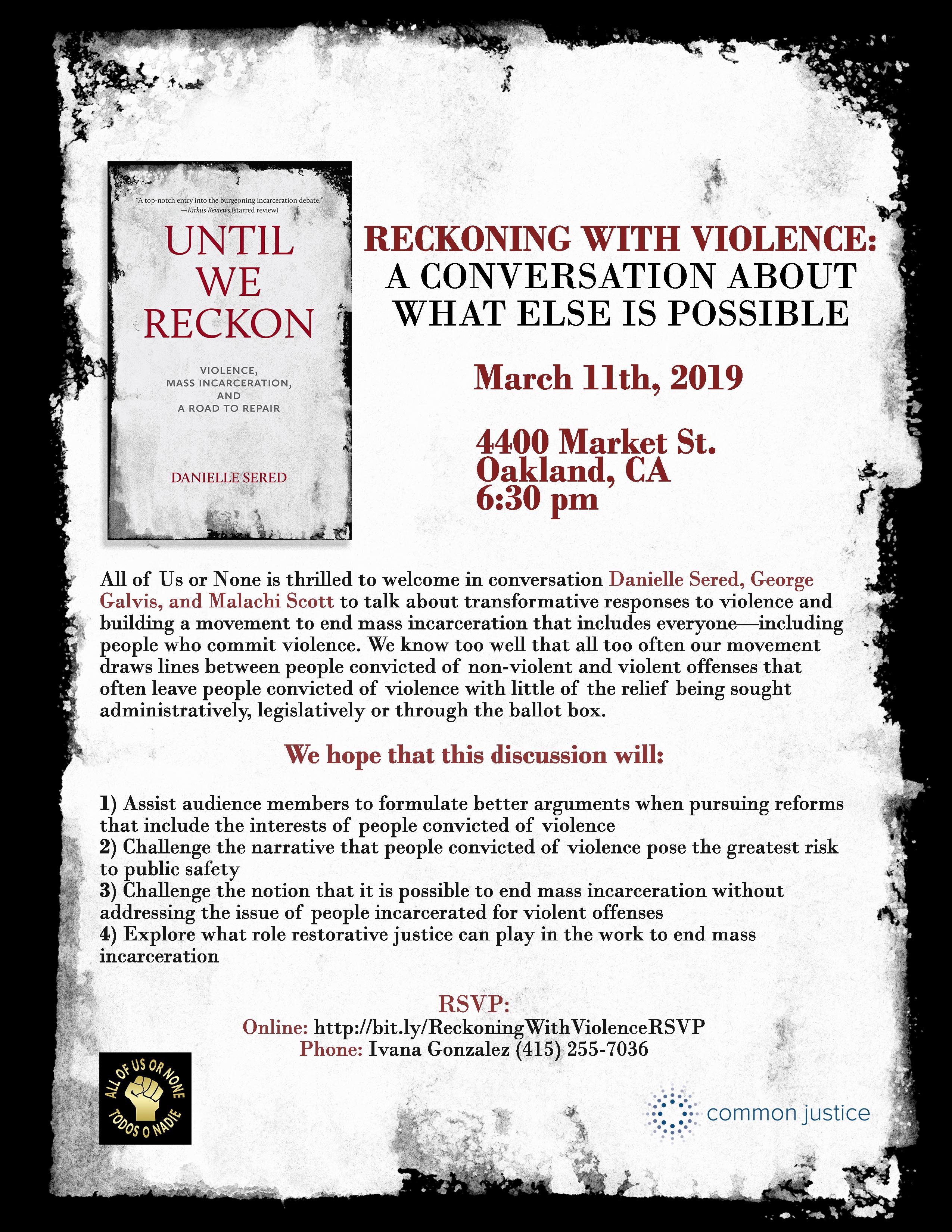 All of Us or None is thrilled to welcome in conversation Danielle Sered, George Galvis, and Malachi Scott to talk about transformative responses to violence and building a movement to end mass incarceration that includes everyone—including people who commit violence. We know too well that all too often our movement draws lines between people convicted of non-violent and violent offenses that often leave people convicted of violence with little of the relief being sought administratively, legislatively or through the ballot box.
We hope that this discussion will:
1) Assist audience members to formulate better arguments when pursuing reforms that include the interests of people convicted of violence
2) Challenge the narrative that people convicted of violence pose the greatest risk to public safety
3) Challenge the notion that it is possible to end mass incarceration without addressing the issue of people incarcerated for violent offenses
4) Explore what role restorative justice can play in the work to end mass incarceration
The panelists will use themes from Danielle Sered's new book, Until We Reckon: Violence, Mass Incarceration, and a Road to Repair, as a launchpad for a visionary conversation about what else is possible. The panelists and the work they do will model what it looks like to steer directly and unapologetically into the question of violence, offering approaches that will help end mass incarceration, increase safety, and break down false barriers about who is deserving and capable of transformation.
This conversation will happen in All of Us or None's new space The Freedom & Movement Center, where every day people make what is possible real.
Join us at 6:30 P.M. on March 11 at 4400 Market St. in Oakland.
Not able to make it? We'll also be livestreaming the event on the All of Us or None Facebook Page: https://www.facebook.com/AOUON/
When
March 11th, 2019 6:30 PM through 8:30 PM
Location
4400 Market St.


4400 Market St.


Oakland

,

CA

94608