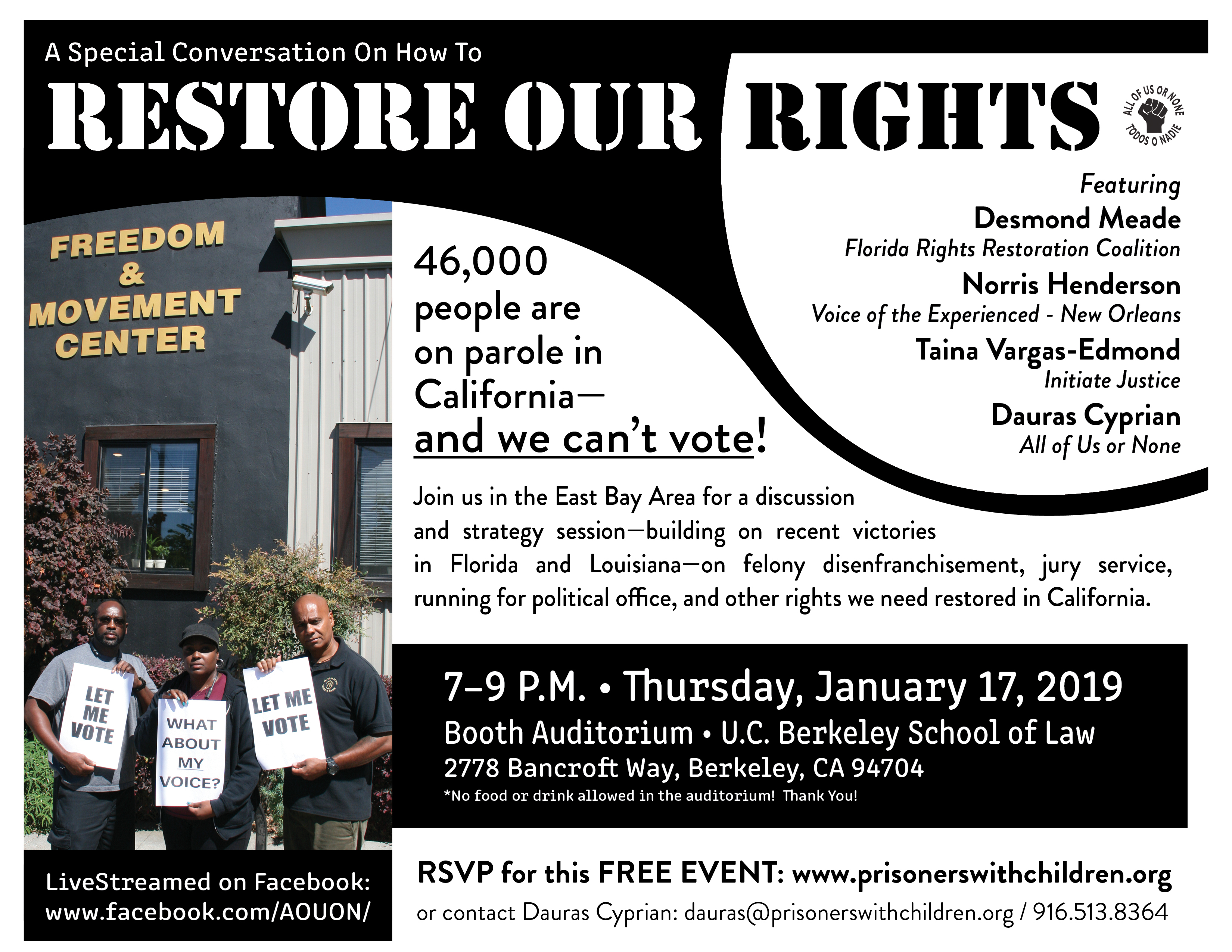 When: 7-9 P.M. • January 17, 2019
Where: Booth Auditorium, U.C. Berkeley School of Law
2745 Bancroft Ave, Berkeley, CA 94720
*No food or drink allowed in the Auditorium. Thank you!

Join us for a discussion and strategy session—building on recent victories in Florida and Louisiana—on felony disenfranchisement, jury service, running for political office, and other rights we need restored in California.

Speakers include:

Desmond Meade, Florida Rights Restoration Coalition (FRRC)—spearheaded the campaign to pass Amendment 4 that will restore the rights of 1.4 million Floridians with felony convictions on January 8, 2019.

Norris Henderson, Voice of the Experienced—New Orleans (VOTE-NOLA)—campaigned to successfully pass Amendment 2, requiring Louisiana juries to have unanimous verdicts. Currently, Oregon is the only state in the U.S. with Jim Crow non-unanimous jury verdicts.

Taina Vargas-Edmond, Initiate Justice—campaigning to restore voting rights for all Californians, regardless of conviction or incarceration status.

Dauras Cyprian, All of Us or None—leading AOUON's "Let Me Vote" campaign, currently on parole and thus ineligible to vote.

The discussion will be moderated by Aminah Elster—after spending over 15 years incarcerated in California prisons, Aminah is currently on parole and thus ineligible to vote. Aminah is the 2018 Elder Freeman Policy Fellow and a current student at UC Berkeley.
Can't join us in person?
The event will be LiveStreamed on All of Us or None's Facebook Page here!
Sponsors include:
U.C. Berkeley Law School Clinical Program • All of Us or None • American Civil Liberties Union of Northern California • American Friends Service Committee • Asian Prisoners Support Committee (APSC) • Bay Area Black Worker Center • California Coalition For Women Prisoners • Causa Justa::Just Cause • Centro Legal de la Raza • Choices for Freedom • Community United for Restorative Youth Justice (CURYJ) • Critical Resistance • East Bay Community Law Center • Ella Baker Center for Human Rights • Initiate Justice • Justice Now • Lawyers Committee For Civil Rights • Legal Services For Prisoners With Children • National Justice for Criminal Justice Reform (NICJR) • Oakland Community Organizations (OCO) • Oakland Rising • Place4Grace • PolicyLink • PUEBLO (People United for a Better Life in Oakland) • Root & Rebound • S.F. State University Project Rebound • Showing Up For Racial Justice • Street Level Health Project • Thelton E. Henderson Center for Social Justice • Time For Change • UnCommon Law • Underground Scholars Initiative • Urban Strategies Council • Young Women's Freedom Center

While this is a FREE Community Event, space is limited!
Please RSVP here with you name and email address.
When
January 17th, 2019 7:00 PM through 9:00 PM
Location
2778 Bancroft Way




Berkeley

,

CA

94704